What is GNPD IRIS?
Sales Movement (Quad Weeks) – Chocolate Wafer Balls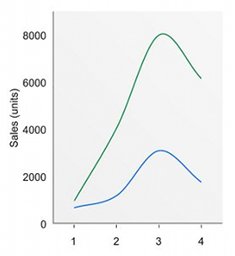 Track the sales performance of products and compare with like products.
GNPD IRIS enables you to monitor the retail success of newly launched products, with access to sales data from IRI.
GNPD IRIS populates both US and Western Europe GNPD product records with sales data from IRI. Each record contains sales data from launch date to 104 weeks. You can view the sales movement (volume sales), distribution (percentage of stores) and performance (units per store) for each record.
In addition to individual product data, you can roll together the sales data to create benchmarks for a company, category, claim or flavour. You can create benchmarks after any search enabling you to compare the relative success of, for example, all-natural orange juice products vs. organic orange juice products.
How can I use Mintel GNPD IRIS?
Case study 1: To target their competitors' poorly performing NPD markets
A drinks manufacturer studies its competitor's success and failure rates on a quarterly basis by tabulating the number of products still on shelf vs. those no longer on shelf. It analyses the length of time the product has been on shelf (establishing an 'average lifespan' per category) and also analyses the characteristics of products that have failed compared to the overall market. It has indexed all of its competitors over a launch period of two or more years, which enables it to more accurately predict who is hot and who's not when it comes to launching new products in its markets.
Case study 2: To study in-market responses to new product concepts
In-market performance metrics enabled one household products manufacturer to decide whether or not to emulate an aspect of prior launches with similar attributes. It was able to quickly remove concepts from its NPD funnel that showed clear signs of failure at an earlier stage in the process.
Within 24 hours of signing up, GNPD IRIS will be available for you to use. As your new product partner, you gain access to a huge Mintel team available to advise, assist and analyse the GNPD for you. The team will help set up internal processes for you to maximise value. They will do all the set-up and training for your teams. They will help create reports based on metrics you need analysing. They are there for you, every step of the way.
It depends on your current subscription so please email us at  clientdevelopment@GNPD.com  and we can send you a quote if you do not already subscribe to Mintel GNPD IRIS.
See IRIS in action
To see a sample of GNPD IRIS, working alongside the other Mintel GNPD elements, request your free website sample now!