What is GNPD Ingredients?
Case study – 2
Most prevalent "energy" ingredients in energy drinks, global, 2007 – June 2009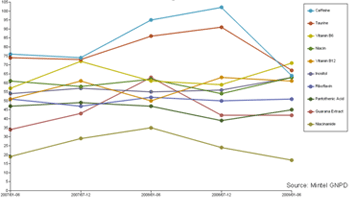 Mintel GNPD Ingredients allows you to search and analyse ingredients trends in new consumer packaged goods. Whether searching for a specific emerging ingredient or for an overarching trend in ingredients, GNPD Ingredients helps you understand activity in your local market or on an international scale.
How can I use Mintel GNPD Ingredients?
Case study 1: To run detailed ingredients searches and analysis
With GNPD Ingredients, you can find all products containing a specific ingredient, even if the packaging doesn't mention it. Every ingredient on each product record is classified into groups and sub-groups for analysis including Food and Drink, Cosmetic, Cleaning and Household products.
Case study 2: To spot emerging ingredients and combinations trends
You can search global food launches for individual ingredients to see in which regions of the world they are most common and determine the ingredients combinations that dominate their industry. With Mintel Plan-IT, search results can be tabulated and graphically displayed to analyse ingredients launch patterns and group trends.
Case study 3: To understand ingredient sales performances
With Mintel GNPD IRIS, you can monitor the sales movement, distribution and performance of products containing a specific ingredient, but also establish sales patterns between ingredients categories and benchmark the sales performances of ingredients within the same category.
Within 24 hours of signing up, GNPD Ingredients will be available for you to use. As your new product partner, you gain access to a huge Mintel team available to advise, assist and analyse the GNPD for you. The team will help set up internal processes for you to maximise value. They will do all the set-up and training for your teams. They will help create reports based on metrics you need analysing. They are there for you, every step of the way.
It depends on your current subscription so please email us at  clientdevelopment@gnpd.com  and we can send you a quote if you do not already subscribe to Mintel GNPD.
See Ingredients in action
To see a sample of GNPD Ingredients, working alongside the other Mintel GNPD elements, request your free website sample now!